Designed in collaboration with Keeley Electronics, the Supro 1970RK Keeley tube combo amplifier sets an amazing sonic foundation for your guitar tone. And with input from the pedal masters at Keeley, it's the perfect platform for your pedalboard. It's got everything guitarists have come to love about Supro amps — high input headroom for dynamic tone, signature midrange girth that's always appropriate, and a touch-sensitive, harmonically rich response. Its 6V6, Class A power section drives 25 watts into a custom CR10 speaker, delivering a wide and balanced sound that does justice to complex, pedal-crafted tones. Complete with a transparent effects loop, and a master volume control for accommodating any room, the Supro 1970RK Keeley combo is an extremely versatile tube amplifier.
Related Videos:
 

1970RK Keeley 1x10" 25-watt Tube Combo Amp
Tailor-made for your pedalboard
Why do certain effects pedals sound better with some amps than they do with others? There are a lot of factors, and Supro and Keeley took them all into account with the 1970RK Keeley combo. It has very high input headroom, which means your boost and drive pedals won't produce unwanted muddy preamp distortion. You can drive the preamp tubes if you want, though — just crank the input volume and roll the master volume back to taste. A solid-state rectifier bolsters the headroom while giving you faster transients and more output power than a tube rectifier can traditionally provide. Also to the benefit of your pedalboard, the custom speaker is voiced for balanced tone that accurately reflects your tone choices, while also sounding incredibly vibrant.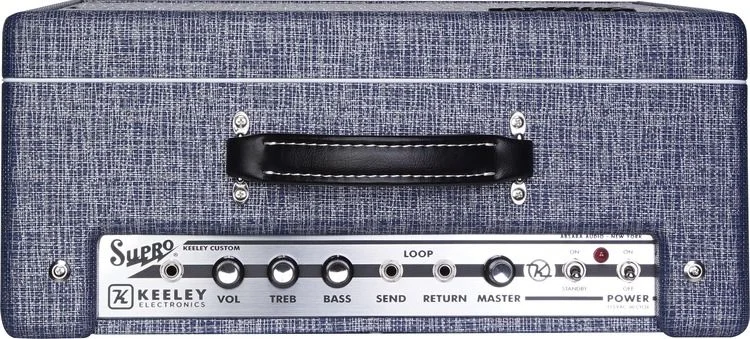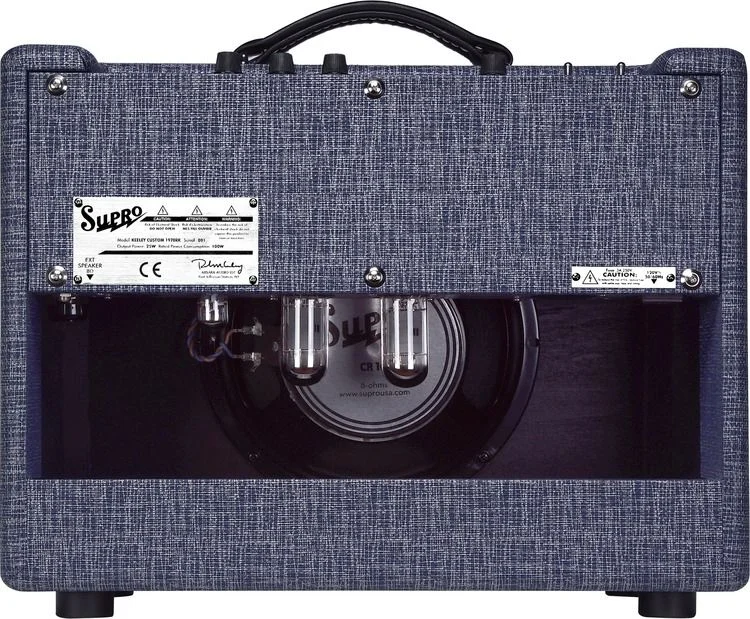 Custom speaker delivers punch, girth, and sparkle
Ask any guitarist at Sweetwater — the speaker in your combo or cabinet plays a huge role in your tone. The amp wizards at Supro know it too, and that's why they loaded the 1970RK Keeley combo with a custom-designed CR10 speaker. It's voiced for deep yet tight bass response, Supro's signature midrange girth, and sparkle that never becomes icy. The cabinet is deeper that a vintage Supro 1x10" cab, adding to the powerful low end. Even with the rest of the band rocking, you can feel the 1970RK Keeley right in your gut.
Transparent effects loop for routing flexibility
With their high input headroom, most Supro amps are just fine with your effects being run into the front end. To make the 1970RK Keeley combo as flexible as possible, this Supro packs a transparent effects loop for your time-based effects like delay and reverb. It's also a great place for a boost or EQ pedal, bolstering your post-preamp tone before it hits those glorious 6V6 power tubes.
Supro 1970RK Keeley Tube Combo Amplifier Features:
All-tube, 25-watt, 1 x 10" combo amplifier
Designed with Keeley Electronics to be an awesome amp for pedals
High input headroom and balanced, wide-ranging speaker do justice to your pedal-crafted tones
Master volume control allows you to drive the input stage while controlling overall volume
Transparent effects loop for delays, reverbs, EQs, and boost pedals
Custom-designed CR10 speaker delivers punchy lows, girthy mids, and velvety highs