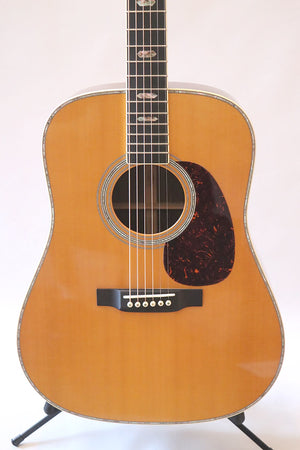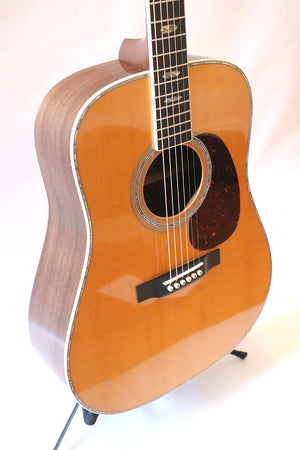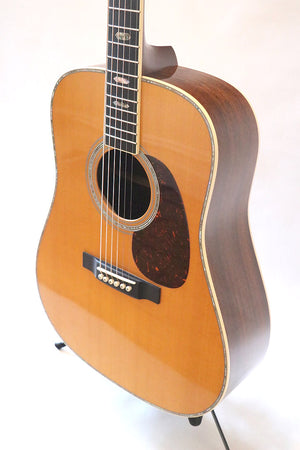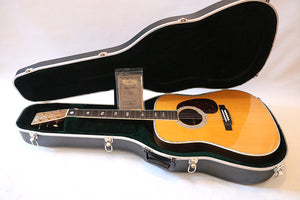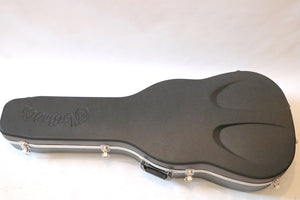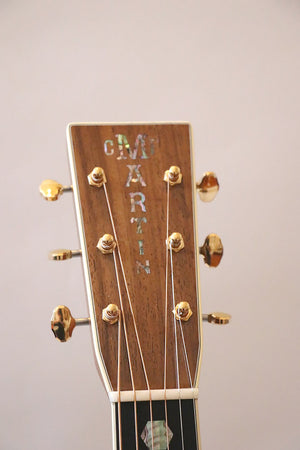 Super clean Martin D-41. Nice and light weight, sensationally easy to play, beautiful full rich sound with great compression. Top notch acoustic guitar from the folks at Martin USA. Comes with everything.
Martin's reputation is not built on hype. It's built on generations of guitarists who recognize the vibrant, brilliant tone produced by peerless craftsmanship and quality woods. This gorgeous D-41 Dreadnought Guitar will show you exactly what we're talking about. A solid spruce top with Martin's unique bracing pattern is hand-joined to lustrous rosewood sides and the 2-piece back. Polychrome abalone inlays in the rosette and ebony fretboard, combined with full binding and gold hardware, make the D-41 as sumptuous to gaze upon as it is to play. Musician's Friend is proud to present the Martin D-41 Standard acoustic guitar.

The Martin D-41 was introduced in 1969 to fill a hole in the Martin line between the D-35 and D-45. Back in 1969, musicians were asking for a Martin guitar that had all the "glitz" from the front of the guitar, as they wanted to have the audience see the "shine" from the stage; however, they didn't want to pay for the pearl on the sides and back. At that point in history, the D-45 was the only dreadnought guitar with pearl. Its $1,200 price tag was a bit much for most musicians, so the Martin Guitar Company decided to offer a pearl guitar that would have the look of a D-45 from stage, but without the extra pearl on the back and sides. Coming in with a price tag of $800, the D-41 was just what players were requesting. The lower price, great sound, and optimal amount of pearl made the D-41 the perfect instrument for the professional/touring musician.


Martin D-41 Standard Acoustic Guitar with Golden Era Tone
Back in 1969, Martin dreadnoughts didn't have the option of a vintage forward-shifted scalloped X bracing pattern. That was reserved for Martin's "Golden Era" dreadnought guitars from the 1930s. Martin's dreadnought guitars from 1931 to 1939 are arguably the most prized, sought-after guitars in the world. One main reason is the bracing pattern. Manufactured from 1931 to 1939, Martin dreadnoughts, such as the D-18, D-28, and D-45 had a forwarded-shifted, scalloped X bracing pattern. This "Golden Era" bracing pattern gave the Martin dreadnought guitars a unique and identifiable tone. Highly valued for the clarity on the high end, and a punchy, defined bass, musicians and collectors soon realized that these instruments were unique and extremely collectible. No other acoustic guitar had the Martin tone, and as a result everyone wanted one.


Vintage Sound Meets Modern Playability on this Martin D-41 Standard Guitar
Today, you can get that vintage tone of the 1930s combined with the playability of a modern guitar. Martin has added the vintage forward-shifted scalloped X bracing pattern to this D-41 Standard Dreadnought acoustic to give you their most treasured tone. And to accompany the improved sound, the playability has been dramatically improved.

The D-41 Standard Dreadnought's neck has been changed to feature a modern, modified low-oval neck, with a Performing Artist taper and 1-3/4" nut. The wider string spacing and comfortable neck profile allow a player to move up and down the neck with ease. The D-41 Standard Dreadnought sounds vintage and is effortless to play.


Other Appointments on the Martin D-41 Standard
Along with an amazing sound and feel, this D-41 features a solid Sitka spruce top, solid East Indian rosewood back and sides, 41 pearl top inlay, hexagon fingerboard inlays, ebony bridge and fingerboard, dovetail neck joint, nitrocellulose lacquer, antique white binding, aging toner finish option, and bone nut and saddle.

Includes a hardshell case.
Features
Antique white binding
Aging toner option (with two other finish choices)
Vintage forward shifted 5/16" scalloped X bracing pattern
Reduced hexagon pearl fingerboard inlays