American-made Hollowbody Thinline with Lollar P-90s
The Heritage Standard H-530 could be the closest many of us come to getting our hands on a late-1960s "Long Neck" x30. This fully hollow thinline is American made on historic Parsons Street using the same equipment, same techniques, and even some of the same craftsman as it's iconic namesake. Apart from its upgraded pickups and slightly thinner body, this guitar is a dead ringer for the genuine article. Its laminated curly maple body rocks versatile Lollar dog ear P-90 pickups, lusty black Top Hat knobs, and a sumptuous nickel bridge assembly. The H-530's genuine mahogany C-profile set neck feels great in the hands for chords, leads, and slidework, capped with an Indian rosewood fingerboard for proper warmth and articulation. And thanks to its Grover tuners (a common upgrade in the '60s and '70s), precision Plek fret treatment, and showstopping nitrocellulose lacquer finish, the Heritage Standard H-530 arrives at your door ready for primetime on the choosiest stages all over the world.
The "entry-level" thinline makes a triumphant return
Originally released as a student model to a popular thinline electro-spanish, the "'30" to which the Heritage H-530 tips its hat has seen a massive resurgence in popularity over the years due to its low-weight hollowbody design and snarlier, more aggressive P-90 pickups. If you're lucky enough to have gotten your hands on a true vintage model, you understand exactly what all the fuss is about. If you're a rock or blues player looking for greater comfort and a more open tone from your thinline, the Heritage H-530 is definitely worth a look. Classic appointments, including a nickel bridge assembly, black Top Hat knobs, and those irresistible dog ear pickups, make the H-530 a guitar that can hold its own alongside any collector's edition.
Lollar P-90 pickups
Jason Lollar's handmade Alnico V "dog ear" soapbars are voiced like a mid-'50s pickup set, only with extra chime and output for greater clarity and amp break. These premium pickups equip the Heritage Standard H-530 with a versatile sonic signature: in neck position, you get a smooth, fat, rich clean tone that's perfect for jazz and blues. In bridge position, you get the raucous snarl and hard edge of a classic P-90, which sounds great in front of a driven tube amp. Both pickups are level matched for parity between positions, with the bridge pickup giving you slightly more cut for single-note lead lines.
A tradition of quality handcrafted guitars
For 68 years, 225 Parsons Street in Kalamazoo, Michigan was home to one of America's premier guitar manufacturers. In 1984, the company moved its operations. The next year, desiring to carry on the tradition of handcrafting electric guitars in Kalamazoo, three former senior employees with a combined 84 years of guitar-building experience founded Heritage Guitar Inc., buying space and much of the original equipment in the iconic factory. Since then, Heritage Guitar has established its own tradition of quality by handcrafting guitars with flawless playability, tone, and visual appeal. We at Sweetwater love our vintage guitars. But if you're after a real-deal classic without the vintage markup, Heritage Guitars are a great way to go.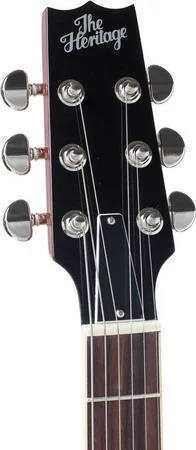 Heritage Standard H-530 Hollowbody Electric Guitar Features:
Late-1960s x30 "Long Neck" design
Lightweight and ergonomic
Handcrafted on historic Parsons Street in Kalamazoo
Fully hollow laminated curly maple body: top, back, and sides
Nickel bridge assembly
Iconic black Top Hot knobs
Genuine mahogany "C" neck with Indian rosewood fingerboard
Lollar dog ear P-90 pickups are vintage voiced, with extra brightness and output
Precision Plek'd for maximum sustain and optimized playability