Gibson Custom Shop Historic Collection 1964 ES-335 Reissue 2021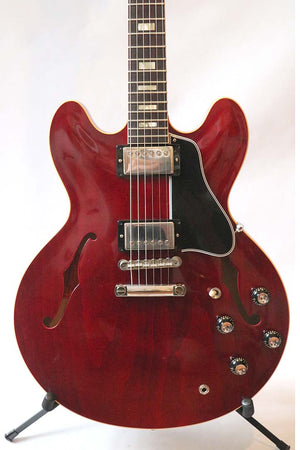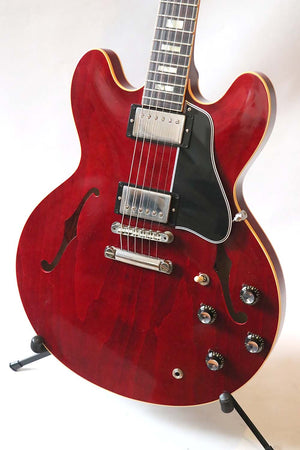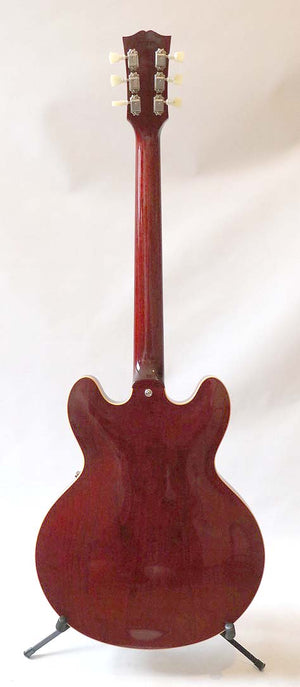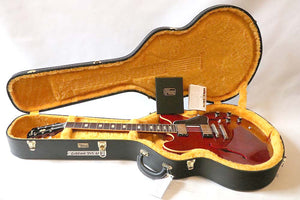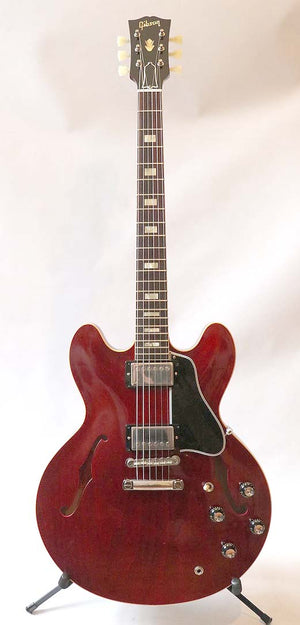 As new condition. This is a cracking guitar! 64 historic ES335 reissue...oh yes :)
A Superb Reproduction of a 1964 Semi-hollowbody Classic
Hunting for the perfect vintage ES-335 can be a harrowing endeavor — it's not for the meek. But before you plop down upwards of $15,000 for a less-than-mint original, take the Gibson Custom 1964 ES-335 Reissue for a test drive. This spot-on re-creation of Gibson's legendary semi-hollowbody electric guitar checks all the right boxes, thanks to vintage-accurate construction, period-correct components, and a fit and finish that are fastidious reproductions of the original. You'll revel in the vibe of this guitar's resonant 3-ply semi-hollowbody, while its hyper-accurate Medium C-shaped neck yields a classic playability unlike anything you've ever felt before. Plug in, and Gibson's Custombucker pickups serve up smoky humbucker tones that recall those glorious days of yore. Beautifully sculpted body contours and vintage-replica parts complete this superbly crafted guitar. The 1964 ES-335 Reissue offers a playing and ownership experience that's guaranteed to keep you coming back for more.
As close to a vintage ES-335 as you're going to find
Playing the 1964 ES-335 Reissue is like playing an actual 1964-built semi-hollowbody. Gibson painstakingly rendered every curve and contour of the original instrument, re-creating its rounded cutaways, neck taper, and color in magnificent detail. In fact, they spent a year studying, scanning, and listening to an original 1964 ES-335 in order to ensure spot-on accuracy. And the guitarists here at Sweetwater agree that they've succeeded — from the small bock cellulose nitrate fingerboard inlays right down to the vintage-replica parts. The 1964 ES-335 Reissue is the real deal (or at least as close as you're going to get without taking out a second mortgage).
Historic appointments are more authentic than ever
If you want all that an original 1964 ES-335 has to offer, you'll appreciate this superb reproduction. Its solid mahogany neck is attached using hide glue, which lasts longer than synthetic glue, and to some, even improves the guitar's sound. Gibson also re-engineered the truss rod, truss rod washer, and anchor to their original forms. They also eliminated the tubing that surrounded the truss rod — all subtle yet important changes to both the durability of the ES-335 and its overall tone. Classic Kluson Double Ring tuners and Top Hat knobs are also featured on the Gibson Custom 1964 ES-335 Reissue and lend even more visual vintage vibe and style.
Unpotted Custombucker pickups deliver vintage PAF tone
Gibson paid just as much attention to the 1964 ES-335 Reissue's electronics as they did to its aesthetics. Beginning with CTS 500K audio taper potentiometers and paper-in-oil capacitors, every part of this semi-hollowbody electric guitar's internal signal path was designed to give you absolutely dead-on 1964 ES-335 tone. Of course, it's next to impossible to find genuine '50s PAFs (even for Gibson). Instead, the 1964 ES-335 sports a pair of unpotted Custombucker humbuckers. Boasting Alnico III magnets, Gibson's Custombuckers are one of the most historically accurate PAF copies ever. You just won't find another ES-335 that comes as close to the original look, sound, and feel of a 1964 ES-335.
Vintage Original Sheen finish, for the look and feel of a classic
Gibson Custom's Vintage Original Sheen finish option comes standard on Custom Shop Historic Reissue models. The VOS finish package includes lightly aged parts that imparts an authentic vintage patina. The nitrocellulose finished it buffed to a light matte appearance, giving a look and feel of a guitar that has been lovingly played and cared for over the years.
Gibson Custom 1964 ES-335 Reissue Features:
Superbly crafted guitar re-creation of a 1964 ES-335 semi-hollowbody electric guitar

Boasts vintage-accurate construction and components, plus true-to-the-original fit and finish

Resonant semi-hollow maple/poplar/maple body delivers just the right vibe

Medium C-shaped solid mahogany neck yields the classic playability you've been dreaming of

Custombucker pickups serve up smoky humbucker tones that recall those glorious days of yore

CTS 500K audio taper potentiometers and paper-in-oil capacitors give you dead-on 1964 ES-335 tone