Gibson Custom Shop Collector's Choice #17 "Louis" Keith Nelson '59 Les Paul Standard Reissue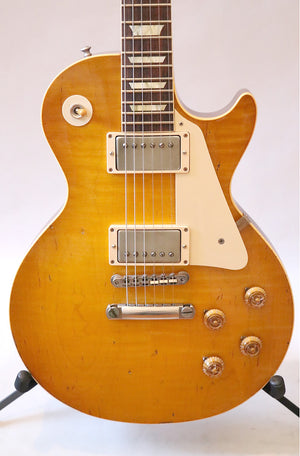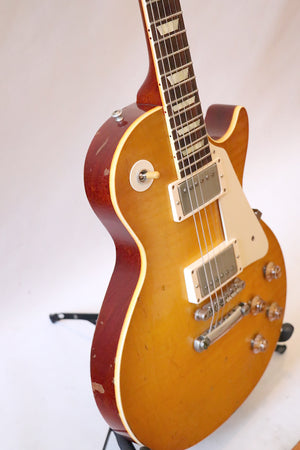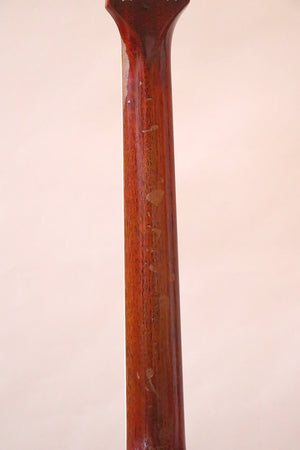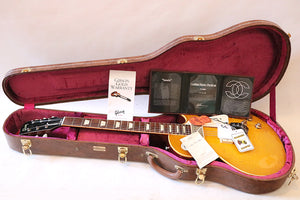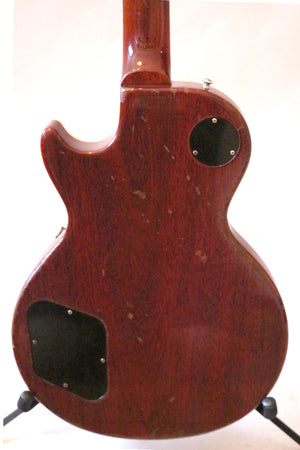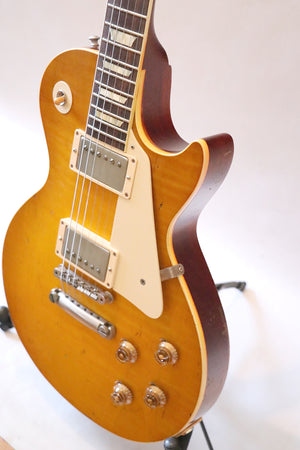 Very good condition Collector's Choice number 17 1959 Les Paul Reissue. Nice light weight and balanced Les Paul. Tom Murphy aged. Pickups have been changed to RS-Guitarworks Psychebilly set. Pots changed to Throbaks. Comes also with original pickups and pots. Two control knobs sshsow cracking. Only 300 world wide, this is a senational guitar. Comes with certificate, case candy and original Gibson period correct hardcase.
Collector's Choice #17 1959 Les Paul Serial Number 9-1062, aka "Louis" is the go-to companion of Kieth Nelson, founding member of Southern California rock band Buckcherry, making it a familiar voice to a loyal fan base that spans the globe. After thirty years cautiously tucked away in a private collection, "Louis" was put back on the front lines as an everyday workhorse for both studio and stage when Nelson fell in love with its unique, classic Les Paul tone. Through a longtime friend and vintage guitar broker, Nelson had the once-in-a-lifetime opportunity to put six original 1959 Les Pauls through their paces, pouring over each one's weight, feel, and, most importantly, its sound. In the end, he found his Les Paul tone in "Louis" and it's been a non-stop partnership ever since. From Buckcherry's 2013 release
Confessions
to every live show since, Nelson and "Louis" can be seen and heard almost nightly.
One of the very few original 1959 Les Pauls in existence and a fine example of an instrument that's been well-preserved throughout a lifetime of use (and counting), Gibson Custom has reproduced "Louis" in precise detail, from the original guitar's softly faded burst and lightly aged finish to its individual tone and neck profile. As is the case with the all Collector's Choice guitars, great lengths have been gone to in order to recapture the rare individuality of a very exceptional piece of history, and in this case, a well-travelled and often heard guitar. From digital scanning to audio testing to the unique skills of Gibson's Custom craftspeople, no detail is left unattended, resulting in a masterful recreation of a specific 1959 Les Paul, offering a few collector's and players the chance to experience the look, feel and sound at a very rare piece.
Features
Body: 1-piece genuine mahogany back, figured maple top
Neck: 1-piece genuine mahogany
Fretboard: Single-layer, solid rosewood
Inlay: Celluloid trapezoid
Nut: Nylon
Finish: Nelson Dirty Lemon, Aniline Dye back and sides
Tuners: Reissue Deluxe Kluson "Greenkeys"
Tailpiece & Bridge: Lightweight aluminum stopbar with ABR-1 Bridge
Neck pickup: BurstBucker 3
Bridge pickup: '57 Classic
Headstock: Reissue Holly Head Veneer with Pearl Gibson inlay
Hardware: Nickel
Knobs: Gold Top Hats
Collateral: Leather-bound tri-fold Certificate of Authenticity
Run: Limited Edition of up to 300 Aged, with the availability of qualifying materials ultimately determining the size of the run