Gibson Collector's Choice #15 Greg Martin 1958 Les Paul Historic - Custom Shop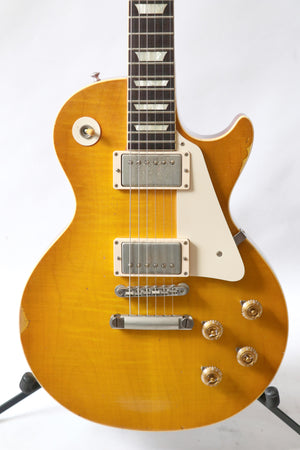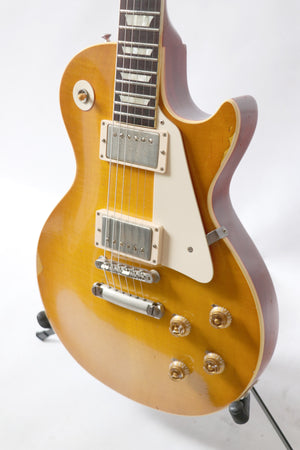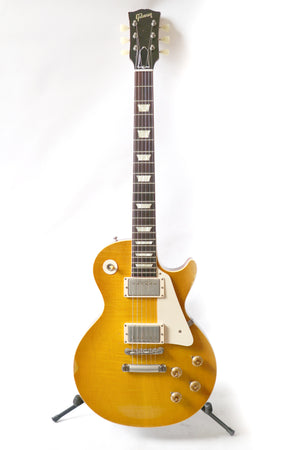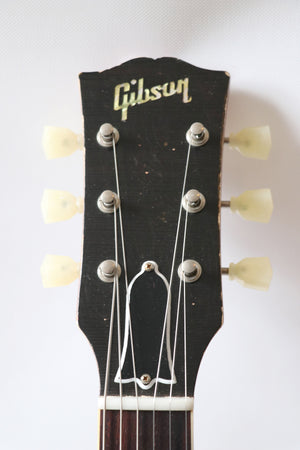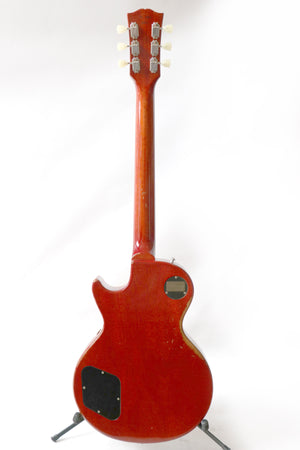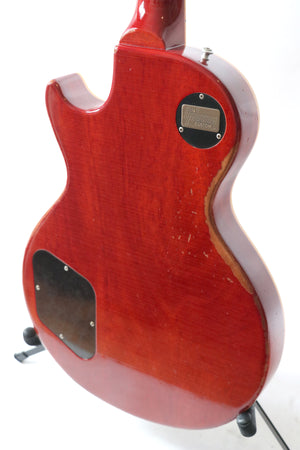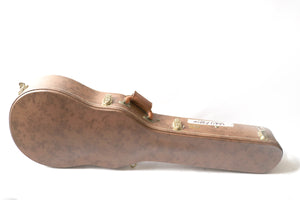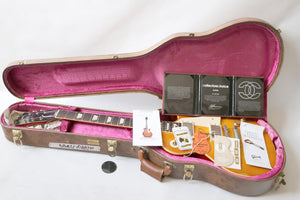 Excellent condition Gibson Custom Shop Murphy Aged 'Greg Martin' limited edition 58 Les Paul. From the collectors choice series of guitars. 3.9 kgs in weight. The knobs have some cracking, but otherwise this one hasn't been played much. Same model that Greg Koch owns. The neck is small for a 58, almost like a 59/60 shape. Pretty much as good as a Les Paul can get. Come in for a play.
A limited run of up to 300 hand-aged and meticulously crafted guitars based on the Kentucky Headhunters lead guitarist's favorite axe.
Played on countless gigs and recording sessions, Collector™s Choice #15 Greg Martin 1958 Les Paul is an astounding re-creation of the original 1958 Les Paul that™s been the main squeeze of Kentucky Headhunters guitarist Greg Martin since the band™s early days. As such, it is a familiar voice among the most exalted tones in music today, and an unparalleled inspiration for a brilliantly crafted reproduction of a Les Paul that™s flush with character in its tone, feel, and aesthetic. From the luscious, road-tested look of its faded œdirty lemon finish, to the big, bold tone from a robust pairing of PAF pickups that Greg has woven into a Grammy Award-winning career, Collector™s Choice #15 is an exceptional guitar in every sense"and by any standard.

The full achievement of this detailed recreation arrives courtesy of Gibson Custom™s intimate and painstaking analysis of the original guitar, with close cooperation from Greg Martin himself. The distinct, individual details that reflect this guitar™s unique character include the precise neck shape (a rounded, but not overly clubby, ™58 profile that has been scanned and duplicated for an exact match); the precise top carve, along with precise renditions of every critical angle and curve; and to capture that essential burst tone, Gibson™s pickup specialists have performed exhaustive testing of the originals to design a pair of custom-wound Custom Bucker PAF reproductions (with Alnico III magnets) that capture every nuance of these classic pickups.

In addition to essentially cloning the full aesthetic and sonic glory of this pristine Les Paul, Collector™s Choice #15, like all 2013 Gibson Custom reissues, also features Gibson Custom™s 20th Anniversary Historic Specifications, which bring the Custom Shop reproductions closer to the real thing than ever before. These specifications, introduced for 2013, include a single-layer rosewood fingerboard, hot hide glue neck joint, accurate fingerboard and body binding color, historically accurate truss rod assembly, and genuine aniline dye, specially mixed to produce the correct color, on the guitar's back, neck, and sides.

Further period-correct details grace the neck™s nylon 6/6 nut, holly headstock face with pearl Gibson logo, reissue Kluson Deluxe green-key tuners, ABR-1 Tune-o-Matic bridge with lightweight aluminum stopbar tailpiece, reproduction Bumble Bee tone caps, and more.

All this deep technical and artistic expertise comes together in a guitar that presents a rare opportunity for the Les Paul player or collector, and will be produced only in a very limited run of up to 300 hand-aged and meticulously crafted instruments. Qualifying materials will ultimately determine the size of the run, so reserve this piece of history now at your authorized Gibson Custom dealer.

Body and Neck
The body of Collector™s Choice #15 Greg Martin 1958 Les Paul is made from a single piece of solid, lightweight mahogany topped with a lightly figured, hand-selected maple top that emulates the look of the original guitar. The neck is made from solid quarter-sawn mahogany and carved to the precise ™58 profile taken from exact measurement of the original guitar. It is topped with a one-piece rosewood fretboard with aged cellulose trapezoid inlays.

Pickups and Electronics
The original PAF humbucking pickups are a crucial part of the œburst tone in any original late-™50s Les Paul. To make the pickups loaded into Collector™s Choice #15 Greg Martin 1958 Les Paul as authentic as possible, Gibson Custom carefully studied and measured every intricate spec of the originals, to replicate them as a pair of Custom Buckers. Made with Alnico III magnets, with coils scatter-wound to accurate specs and wax potted, these are as close as you™ll come to the real thing. They'e followed by the traditional control knob complement and three-way switch, with œbumble bee tone capacitors.

Hardware
Period-correct hardware graces the Collector™s Choice #15, including reissue Kluson Deluxe œgreen-key tuners, an ABR-1 Tune-o-matic bridge, and lightweight aluminum stopbar tailpiece, all nickel plated. The binding is all the accurate vintage color, as are the pickup rings and pickguard, and the guitar carries a traditional black/white œbell truss rod cover.

Cases & Coverage
Each guitar will include a silkscreened brown Custom Shop hardshell case and owner™s manual, a Custom Shop Collector™s Choice #15 leather-bound trifold Certificate of Authenticity, and is backed by Gibson Custom™s Limited Lifetime Warranty with 24/7/365 Customer Service.

Gibson Custom™s Collector™s Choice Series
Gibson Custom™s Collector™s Choice Series allows players around the world to experience the precise look, feel and tone of some of the rarest guitars in history. Through unfettered hands-on access to specific vintage Les Pauls, Gibson Custom is able to capture and reproduce the characteristics of these prized originals in amazing detail: neck shape, dish carve, finish, aging, and tone"to name just a few essential elements. All are re-created with stunning accuracy and workmanship. The process is breathtaking on any occasion, but when the instrument in question is owned and played by a globally recognized artist, our excitement at offering it in the growing Collector™s Choice catalog takes on an added dimension.
Features
Body
Top: Lightly Figured Maple
Back: 1-Piece Mahogany
Binding: Single-ply Cream Binding on Top
Adhesive: Franklin Titebond
Neck
Species: Genuine Mahogany Neck with a Maple Spline
Profile: ™58 Profile
Truss Rod: Vintage Truss Rod Assembly
Joint Angle: 4 (+/- 15 seconds)
Neck Fit
Joint: Mortise & Tenon
Adhesive: Hot Hide Glue
Joint Angle: Tolerance +/- .005"
Fingerboard
Species: Rosewood
Radius: 12"
Binding: .Single-ply Cream
Inlays: Nitrocellulose Trapezoid Inlays
Nut/E.O.B: 1.687/2.062
Nut
Material: Nylon
Width: 1.687
Slots: Gibson PLEK System
Headstock
Inlay: Holly Headstock with 'Gibson' Pearl Logo
Truss Rod: Cover Reissue
Angle: 17 Degrees
Tuners
Model: Kluson Deluxe Green Key
Tuning Ratio: 12:01
Plating: Nickel
Bridge
Type: ABR-1 Tune-o-Matic
Plating: Nickel
Tailpiece
Type: Lightweight Aluminum Stopbar Tailpiece
Plating: Nickel
Hardware
Pickguard: Reissue Cream
Knobs: Gold Top Hats with Dial Pointers
Toggle Switch: Washer Cream with Gold Silkscreen
Pickup Mounting Rings: Cream
Control Plate: Cover Black
Strings: .010 - .046
Strap Buttons: Aluminum Gibson End Pins
Pickups
Neck Position: Custom Bucker (Alnico III)
Bridge Position: Custom Bucker (Alnico III)
Electronics
Potentiometers: 2 Volume Controls, 2 Tone Controls
Capacitors: Bumble Bee
Toggle Switch: Three-Way with Vintage Toggle Cap
Output Jack: Traditional ¼"
Finish
Sealer: Nitrocellulose Lacquer
Case
Custom Shop hardshell case