Fender '65 Twin Reverb Reissue 85-Watt 2x12" Guitar Combo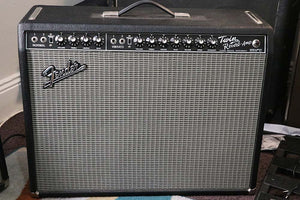 As new condition. Fender 1965 reissue Twin blackface.
Since its debut in 1991, the Fender '65 Twin Reverb Reissue has been one of the most popular and highest quality stage amps. Period correct appointments and modern reliability complement the classic 85W 2x12 design. The onboard reverb is so good that some pedals try to clone its sound. Loud enough to peel the paint off the walls and with a tremendous clean sound, the '65 Reissue Twin Reverb makes for one of the best pedal platform amps ever built.