Eric Clapton Signature EC Tremolux 12W 1x12 Hand-Wired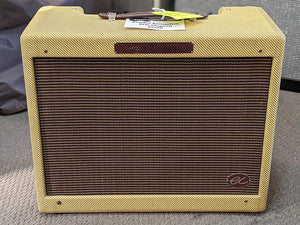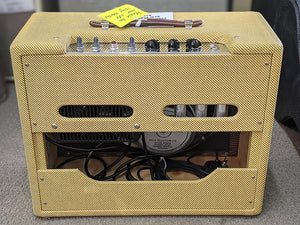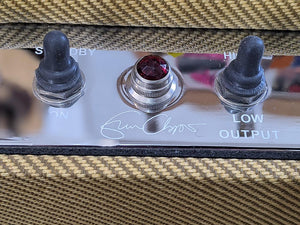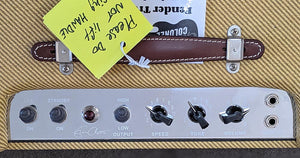 Perfect condition
In a historic collaboration, Fender introduces its first artist signature amplifiers-EC Series amps bearing the name of legendary guitarist Eric Clapton.

1950s-era Deluxe and Tremolux amps are prized for the warm, rich compressed tones of blues and early rock 'n' roll. Clapton often uses a Deluxe when playing traditional blues, and Fender has answered his call for a special model with several distinctive features by introducing the EC Tremolux amp. Built to Clapton's own exacting specifications and handmade in the United States, it's a fascinating variation on the '57 Deluxe designed with a '50s-era output tube bias tremolo (which produced a more throbbing pulse than later Fender tremolo circuits) and a switchable power attenuator (reduces speaker output). A pinnacle of personally inspired amp tone for stage and studio alike, it's a must for Clapton fans and guitarists who want the ultimate in tube performance.

Features include hand-wired all-tube circuitry on eyelet board with premium components; circuit based on late-'50s Fender Deluxe amp model 5E3 (about 12 watts); single channel with high-gain and low-gain inputs; tremolo speed control and footswitch; fixed bias for increased headroom; single 12" Celestion Heritage G12-65 speaker for increased high-gain playing definition; two Groove Tubes 6V6GT output tubes, three 12AX7 preamp tubes and 5Y3GT rectifier tube; Mercury Magnetics custom transformers; internal speaker disconnect (allows use of external 8-ohm speaker enclosure); finger-joined solid pine enclosure for warm, resonant tone; lacquered tweed covering with vintage-style brown/gold grille cloth and leather strap handle. Deluxe fitted cover included.

Features
Hand-wired all-tube circuitry on eyelet board; premium components throughout
Circuit based on late 1950s 5E3 Fender Deluxe amp - produces about 12 Watts
Single channel with two inputs - high and low gain
Bias Tremolo with speed control and footswitch
Fixed Bias for increased headroom
Celestion Heritage G12-65 speaker for increased definition with high-gain playing
Two Groove Tubes 6V6GT output tubes, three 12AX7 preamp tubes, and 5Y3GT rectifier tube
Custom transformers by Mercury Magnetics
Switchable output power attenuator " reduces the speaker's output if desired
Disconnectable internal speaker " allows use of external 8 Ohm speaker enclosure
Finger"joined solid pine cabinet resonates with a warm, woody tone
Genuine lacquered tweed covering with vintage brown/gold grille cloth and leather strap handle
Deluxe fitted cover is included
Hand made in Corona, California, US