Magnatone Twilighter Stereo - 2x12" 22+22-watt Tube Combo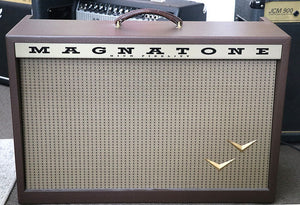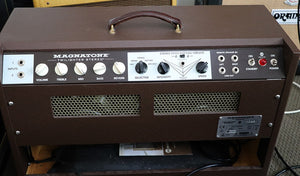 For three-dimensional guitar tone it's hard to beat the sound of true stereo vibrato and tremolo, and that's exactly what the Magnatone Twilight Stereo combo amplifier offers. It's based on the authentic Magnatone varistor vibrato circuit — often imitated but never yet duplicated. Driving a pair of custom 12" speakers with 22 watts of Class AB amplification each, this combo has a fast and detailed response that accepts pedals extremely well. With dual speaker outputs and line-level DI outputs, the Magnatone Twilight Stereo is a powerful foundation for any guitar rig. 
Magnatone: Rebirth of a Legend
Legendary Magnatone vibrato and tremolo
Designed in the late '50s, the varistor-based Magnatone vibrato circuit is widely accepted as one of the best-sounding vibrato and tremolo circuits ever made. Updated for maximum reliability, the LFO in this circuit is now more stable than ever and allows for a wider range of effects — from extremely slow modulation to very fast shimmer. You can switch between vibrato and tremolo modes, and can even control the modulation speed with an external expression pedal (sold separately).
True tube-driven spring reverb
For true '50s-'60s guitar tone you can't beat the sound of tube-driven spring reverb. The Magnatone Twilighter Stereo combo packs a four-spring reverb tank with counterwound springs. It's generally accepted that counterwound springs deliver a clearer sound with less resonance and "clang." Expect a classy and spacious sound from the Twilighter combo even at high reverb levels.
Custom 12" speakers with ceramic magnets
If there's one thing guitarists at Sweetwater love to see in a combo, it's custom speakers designed specifically for that amp. These custom 12" speakers with ceramic magnets have a fast, detailed sound with nicely balanced lows, mids, and highs. Clean tones sound very sweet, and they maintains their sonic balance with overdrive and distortion.
Magnatone Twilighter Stereo Tube Combo Amp Features:
22-watt all-tube stereo combo amp with custom 12" speakers
Based on classic American combo amps from the '50s-'60s
Authentic Magnatone varistor-based stereo vibrato and tremolo
Tube-driven four-spring reverb tank, with counterwound springs for enhanced clarity and detail
Fast, detailed sound from the Class AB design and GZ34 rectifier
High- and Low-sensitivity inputs accommodate virtually any guitar and pickup
Vibrato /tremolo rate can be controlled via expression pedal (not included)
Dual speaker outputs for 8-ohm speakers
Line-level outputs for DI use
Included 2-button footswitch
Ideal for performing and recording