Dr Z Stangray head amplifier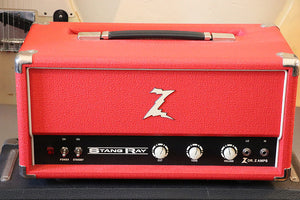 Perfect condition
he Stang Ray is the result of his second collaboration with superstar country guitarist Brad Paisley. After the success of their first partnership, the Prescription Extra Strength, Dr.Z and Brad Paisley wanted to develop an amplifier that offered an additional pallet of tones to work alongside the Prescription Extra Strength.
Using the classic setup of a quartet of EL84's biased close to true Class A at 30 watts, the new Stang Ray tips its hat to classic British tones, but like all Dr.Z amps, has its own unique voice. The preamp uses an EF-86, and it has a 12AX7 phase inverter. Tone shaping is accomplished with Volume, Tone, and Cut controls, giving you the ability to dial up a warm tone, but with sweet 3k range brilliance for beautiful upper treble and nice low-midrange control. The output transformer was designed by Ken Fischer (Trainwreck), who also worked with Dr.Z on the Airbrake.
The front panel keeps it simple with controls for volume, tone, and cut. Around back are 4, 8 and 16 ohm speaker outs.