Blackstar Artisan 15C Valve Guitar Combo Amplifier - Hand wired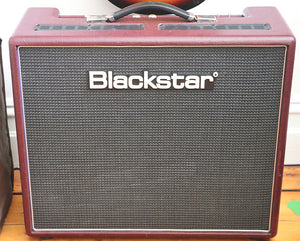 The Artisan 15 - beautiful looks and beautiful tone. Two channels, one based on an EF86 Pentode and the other an ECC83 Triode, refine legendary vintage and boutique reference tones. The EL84 based power section is switchable between a 5W triode mode and a more dynamic 15W pentode mode configuration, for the ultimate in low power valve amplifier flexibility.
Class A 15W Combo
Switch for 5W triode mode / 15W pentode mode
2 x EL84 output valves
EF86 channel
ECC83 channel
Hi and Lo inputs perfect for channel blending
Impedance selector
HANDWIRED
Each Artisan amplifier is designed to offer the widest range of classic vintage and boutique tones to the highest possible sonic standard. This is achieved by the design of electronics circuits that work in harmony with the finest components and materials available. All the designs are simple in their operation and yet deceptively flexible in their functionality.
SWITCH 5W TRIODE MODE / 15W PENTODE MODE
In triode mode the tone is round and bluesy with a mellow top end for laid back soloing. The triode mode also has the benefit of producing more saturated distortion tones at lower output levels which makes this mode ideal for recording and practice. The pentode mode produces a more dynamic feel and is louder and more punchy than the triode mode. This setting is recommended for dynamic clean sounds and more pushy sounding crunch tones. This is a great setting for rehearsals and small club gigs.
CHANNEL BLENDING
The Artisan's topology allows the blending of the two channels. By paralleling the guitar connection to the inputs of Channel 1 and Channel 2 endless tonal variations can be explored. Use the hi input if you wish to achieve power amplifier break-up and overdrive. Use the lo input if you wish the amplifier to remain clean (this is especially useful if the guitar used has high output pick-ups).
IMPEDENCE SELECTOR
The control matches the amplifier's impedance to that of the connected speakers. Always ensure that the selected impedance matches that of the internal and/or external speaker cabinets. (if combo). The Artisan's (combo only) internal speaker is 16 Ohms, so when used by itself the Impedance Selector must be set to 16 Ohms. If an additional 16 Ohm speaker cabinet is used together with the internal speaker the Impedance Selector should be set to 8 Ohms. A speaker cabinet of less than 16 Ohms should not be used together with the internal speaker. (show diagram of the speakers possible)
WELDED STEEL CHASSIS
The Artisan range represents quality. This is reflected in the fact that the amplifier uses a welded steel chassis for strength and durability as well as overall quality.