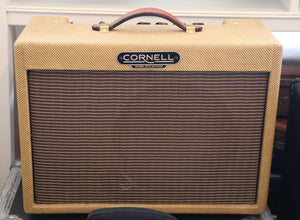 Perfect working condition.
The Cornell Romany 10 combo amplifier is equipped with a 10" Jensen speaker and has a maximum output of 10 watts.  It delivers a professional tone that is loud enough not just for studio or home use but also suitable for playing small venues.
Players can benefit from natural warm and sweet tones, reminiscent of those classic American amps from the late 1950's.  Achieving the perfect tone is easy with the choice of volume, bass, middle, treble, and a toggle switch for EQ cut.  In addition, an output reduction control gives you the choice of 10 - 2 -  0.25 and 0.05 watts.   
In addition to it's authentic tone it also has the looks to match,  featuring classic tweed covering, Oxblood grill and leather handle for portable use.  The control panel offers a simple design and completes that classic look with chicken-head control.