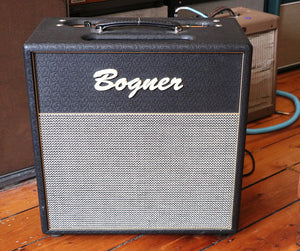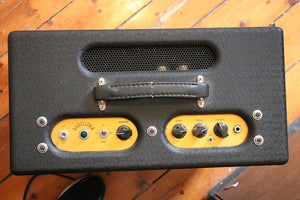 Very good condition.
At its core, the Class AB Barcelona is a very simple amplifier. It's among the most powerful amps in the International line in terms of wattage, though the 40 watts can be throttled back to 20 watts via the amp's standby switch. This portion of the circuit works in tandem with a power transformer that's custom- wound exclusively for an 8 Ω speaker load (in this case, a Celestion Vintage 30).
A trio of JJ 12AX7 tubes is the core of the amp's single preamp channel. Instead of a traditional three-band EQ section, the preamp employs Treble and Bass knobs and a 3-way Mid EQ switch that flips between scooped, flat, and boosted midrange voicings. And while the Barcelona is built principally for a crystal-clean headroom, Bogner also threw in a Gain control for added versatility. Pulling that control out kicks in the amp's Fat mode, which boosts the gain and bass.