Zagar 900CE Left Hand 2017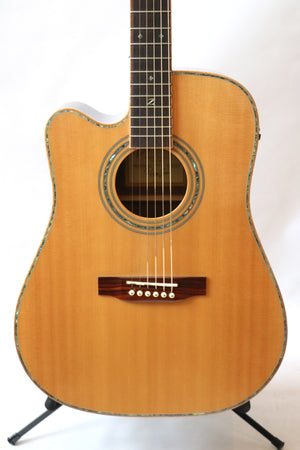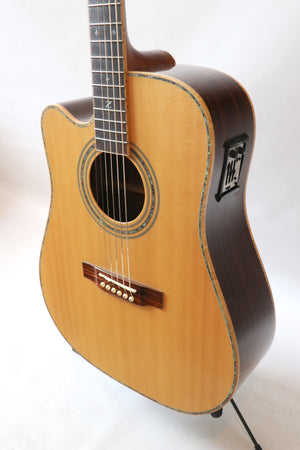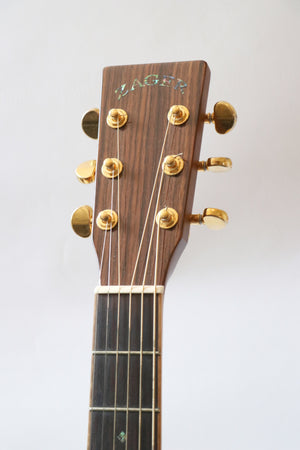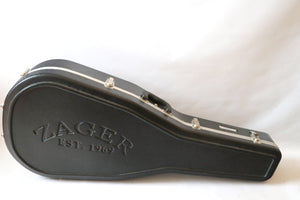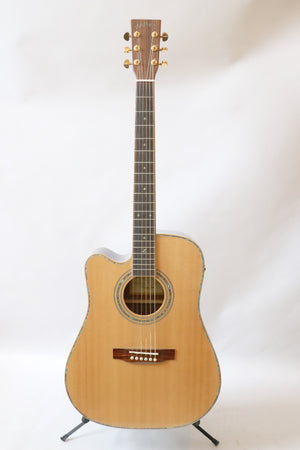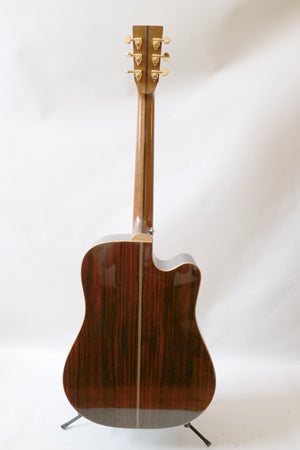 Very clean condition. Comes with hard case
Full Size, Solid Sitka Spruce/Indian Rosewood, maple binding, abalone and pearl inlay.
Fishman AURA Sound Imaging system (highest rated in the USA)
Our deepest, richest sounding guitar…15% more power than our 80 Series.
Buyers of the 900 are coming from Martin D45, Taylor 9, Gibson Hummingbird
From the Zagar Website:

If you demand the best this is it.  When we have a customer come into the shop with a $5000 acoustic who's looking for that type of quality and sound but with easier playability, the 900 is the only guitar we go to.  Unlike our 20 and 50 Series guitars Denny uses a special bracing system on the 900 that allows the face to move half a millimeter more giving it more projection and power.   When you hit a string on the 900 you feel it resonate through your gut.  There's very few guitars today that can do this, especially new guitars, and when you find one it's usually the price of a small car. 
Zager Pro Series guitars play a little easier and sound a little more powerful than our regular series instruments.   The woods are aged longer.  The finish is applied thinner so the sound board moves half a millimeter more when the strings are hit providing a deeper bass response.  Each piece of abalone and pearl is laid by hand in combination with gold Grover tuners that pop to the eye.  Most customers buying our 900 Series are touring artists and veteran musicians coming from high level Martin, Taylor, Santa Cruz and Gibson.  Denny did extensive testing in designing the 900 and sent it to veteran players and artists around the world who put it up against the finest guitars made. Pros say the 900 outperforms guitars at twice its price point (sometimes more), but playability is easier and price is less than half since you're buying direct from our workshop in Lincoln, Nebraska versus retail stores.
Denny wanted only the finest electronics system for the 900 series so he called Bob Fishman at world renowned "Fishman Transducers." Fishman's new Aura Digital Sound Imaging System allows you to download thousands of sound images directly from the Fishman online library that have been professionally mixed in Fishmans multi-million dollar recording studios. You can select from images mixed specifically for your Zager as well as thousands of others depending on the sound you're looking for. Denny used to spend countless hours in studio time dialing in the perfect sound for his guitars. Fishman's Aura Image Gallery Software (included) does this for you by allowing you to select from thousands of images in their online library that will give you the sound you want no matter what you're looking for and downloading them onto your guitar via USB cable. Read the reviews, talk to the pros, and you will see this system dominates every guitar electronics package on the market today.
Be sure to read artist comments and magazine reviews on the 900 as it consistently rates in the top 5% of acoustics made world wide. 100% money back guarantee including shipping fees both ways. It's a lifetime instrument so it comes with a lifetime warranty.  Truly a work of art with a stunning sound that will get better year after year.
Full size dreadnought the most popular guitar size in the world.
Solid wood construction sounds better every year as it ages.
Venetian cutaway box design allows you to slide down low into the box for easier playability.
Fishman's new AURA Digital Sound Imaging System that allows you to download thousands of sound images directly from the Fishman online library that have been professionally mixed in Fishmans multi-million dollar recording studios.
Built in genuine Fishman transducer  system allows you to plug into any amplifier or PA system and play it like a full electric guitar.
Built in genuine Fishman automatic tuner system tunes your guitar perfectly in seconds and if you're a beginner actually trains your ear for perfect pitch.
Built in genuine Fishman equalizer system gives you infinite sound possibilities allowing you to dial in the perfect sound.
Hand carved bracing for greater movement of the soundboard providing a richer sound.
Slim neck design feels natural in your hand making it easier to form chords.
Custom string spacing for greater speed and accuracy (and less rattles).
Zager soft touch fret design for less string bite and finger fatigue.
Adjustable truss rod to raise or lower action depending on your playing style.
Special ultra thin high gloss finish allows more movement of the body for deeper sound
Hand carved bone nut and saddle. (Found on predominantly $1500+ guitars).
Hand laid abalone inlay rosette with pearl fret markers.
Ivory binding detail and zipper stripe down back (Found in predominantly $1500+ guitars).
Genuine Grover tuning machines (best in the world).
100% money back guarantee